Taxi driver attacks passenger in Cuxlin Ha
Punta Gorda, TOLEDO. Wednesday, December 6, 2017. A man was injured in an attack on Tuesday night in the community of Cuxlin Ha, which is about 8 miles outside of Punta Gorda town.
The 77 year old American retiree had hired a taxicab to take him to Cuxlin Ha from P.G. after arriving on the last passenger bus.
When the taxicab arrived at Cuxlin Ha, the driver became irate with his far and attacked him.
To get away from his attacker, the retiree sought refuge in his friends' house; but the taxi driver followed him and hurled rocks and other missiles into the home of the elderly retired couple.
During the missile-throwing, the 77 year old man was injured on the left hand, apparently by a large conch shell that was hurled at him.
Frightened out of their sleep at the commotion, the couple emerged to find the irate taxi man behaving belligerently.
He eventually left, after which the bleeding man was tended to and his wounds cleaned up and bandaged.
A call for help from the police in Punta Gorda town went unanswered on Tuesday night, as an officer who answered the telephone informed that there was no vehicle available for officers to respond to the emergency call.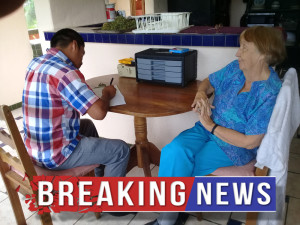 On Wednesday morning, a team of 6 heavily armed officers in two vehicles arrived at Cuxlin Ha to investigate and take statements.
The man who was attacked as well as the couple into whose house the missiles were hurled have indicated that they do not intend to press charges.
They say all the want is for the police to find the attacker and to let him know that what he did is not acceptable.
The police, meanwhile, has been taking some sharp public criticisms for saying that there was no vehicle to respond to the call for help on Tuesday night.
Many people believe that the issue should have been handled differently, while others believe that the police department needs to be facilitated with more resources to be able to adequately respond to the needs of the community they serve.
Birthday Wishes