Fisher folks forum held in Punta Gorda
Punta Gorda, TOLEDO. Wednesday, November 29, 2017. The Toledo Institute for Development and Environment, TIDE, in collaboration with the Fisheries Department conducted a fisher folk meeting on Thursday of last week.
This was their last such meeting for 2017. During the forum, the participants held discussions and saw presentations based mainly on the managed access campaign that has been ongoing for several years.
At Thursday's gathering, Marty Alvarez from the Belize Fisheries Department, explained to the participants the process for obtaining or renewing their fisher folk license for the year 2018.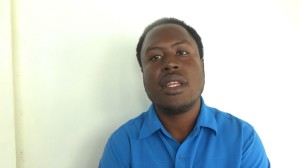 In the case of new applicants, they need to provide a utility bill for proof of residence and their Social Security Card.
For renewals, the person must present the old fisher folk license, their utility bill and Belize Social Security Card.
If they reside in a village without electricity and water services to provide a bill, the applicant must then obtain a letter signed by a Justice of the Peace attesting to their residence in such a community/village.
The Belize Fisheries Department official explained that since the introduction of managed-access initiative in the Port Honduras Marine Reserve, they have noticed a drop in illegal incursions by fishers from Guatemala.
As a result, according to Alvarez, fishers have been noticing increased catch in the Port Honduras Marine Reserve.
Managed-access Officer with the Toledo Institute for Development and Environment, Ryan Moore says that this meeting was the last of two annual forums which give fishers in the various zones an opportunity to discuss issues affecting them.
Birthday Wishes