Guatemalans farming illegally in the Chiquibul
San Ignacio, CAYO. Thursday, May 10, 2018. Guatemalan farmers continue their encroachment into Belize's territory in the Chiquibul National Park.
Friends for Conservation and Development (FCD) rangers report that they have uncovered what has been described as "a complex array of active human activities" in the area of the Chiquibul known as South Cebada.
FCD rangers on patrol in the southern part of the Chiquibul recently found "fresh survey lines, plantations of beans, corn and banana planted by Guatemalan farmers."
The Guatemalan farmers who are carrying out illegal activities inside the Chiquibul National Park will be detained and handed over to the respective authorities in Belize to face requisite charges for their illicit activities.
These charges involve illegal entry, defacing a protected area, occupying and settling inside a protected area and destroying the forest.
FCD has notified the Ministry of Foreign Affairs and the Organization of American States, which maintains an office on the Belize-Guatemala border, and a joint effort will be made to carry out an assessment of the human activity in the area.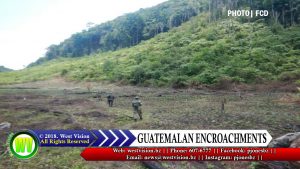 The illicit activities are also being referred to FCD's partner environmental organizations in Guatemala.
The South Cebabda area, according to Friends for Conservation and Development, has been a hot zone for encroachments over the years and the organization has recommended that a Conservation Post be built in the area to deter these encroachments.
The recent escalation in the encroachments, according to FCD, seems to supported by rogue leaders in Guatemala who are preying on poor farmers near the Belize boarder and are allegedly telling these farmers that they can occupy these lands in Belizean territory.
The "yes" vote in the Guatemala referendum on taking that country's unfounded claim to Belize, appears to be the basis upon which the rogue Guatemalan leaders have been soliciting money from the farmers in order for them to be included on a purported list of persons who are being given access to the area.