Home
>
Activities
>
Josephina and Cricencia Oh are laid to rest in San Antonio village
Josephina and Cricencia Oh are laid to rest in San Antonio village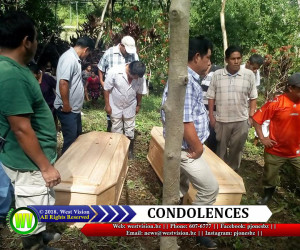 San Antonio, TOLEDO. Friday, January 26, 2018. Sisters Josephina and Cricencia Oh were entombed side by side today as the slain San Antonio natives were laid to rest today.
Family and friends attended the funeral services today in the rural Toledo village. Josephina and Cricencia Oh were viciously chopped and killed on the night of Sunday, January 21, 2018 in San Jose village.
Their bodies were found late last Sunday night.
The sisters had gone to San Jose village for a church service and their killing has left not only their home village in shock, but the entire Toledo district was shaken by the brutality of the double homicide.
The killings remain the subject of an ongoing police investigation.
Over 200 hundred persons, not including children, came out to pay their respects to the fallen sisters and offer words of condolences to the family.
The funeral service was solemnized at the Oh family home in San Antonio village, after which the bodies of Josephina and Cricencia were entombed at the village cemetery.
The funeral service was conducted by the head of the Independent Baptist Church Margarito Bolon.
He was assisted in conducting the service by Reverent Mark Bul of the New Life Baptist Church.
The grieving family, and indeed thee rest of the nation is praying for justice for the slain young women.
If there is anyone with information that could assist the police in their investigation of the double murder, they are being asked to contact the nearest police station to share that information or they can give information anonymously by calling the Crime Stoppers hotline at 0-800-922-TIPS.
Birthday Wishes