Rain expected over most parts of the country today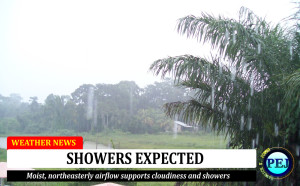 Corozal Town, COROZAL. Saturday, January 14, 2017. A slight, moist northeasterly airflow is responsible for rainy weather over some parts of Belize today, especially in the southern and some coastal areas of the country.  
he general forecast for Belize and her coastal waters is for cloudy skies at times with a few showers.
A decrease in shower activity is expected this afternoon.
Winds over the open sea and along the coast are easterly to northeasterly at 10 to 20 knots, with occasional higher gusts.  
The sea state is moderate, becoming locally rough at times. Operators of small craft should exercise caution in rough seas.  
High temperatures today will be around 80 degrees Fahrenheit along the coast; 84 degrees Fahrenheit inland and 72 degrees Fahrenheit up in the hills.
Low temperatures tonight will be 72 degrees Fahrenheit along the coast; 66 degrees Fahrenheit inland and 60 degrees Fahrenheit up at the higher elevations.
The tides will be high at 11:53 am, low at 5:13 pm and high again at 11:27 pm.  
The sunset today is at 5:37 pm. Moon rise is at 8:04 tonight.
The extended forecast valid through to Monday is for skied to be cloudy at times along with a few showers over most areas of the country. 
_____________________________________________________________________________________________
This report is sponsored by:
_____________________________________________________________________________________________