Trio villager allegedly knocked down by logger
Trio village, TOLEDO. Monday, January 16, 2017. A resident of Trio village in the Toledo district, Charles Dewey Sellers, is recuperating from injuries sustained over the weekend in a confrontation with loggers.
Sellers says that on Saturday he saw a couple of persons who were identified as loggers and he went over to question them about their activities in the area which is near to his house.
Sellers says that at first, the driver of the pickup truck stopped and he asked to see the permit they had to cut wood in the area.
That was when the father of the man who was driving the pickup truck said to "go, go," and the driver sped off.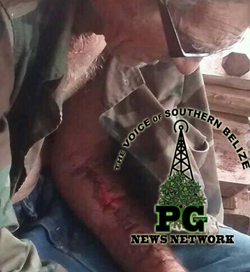 According to Sellers, he sustained multiple injuries including a dislocated shoulder and his left foot was crushed.
"I am in bad pain," Sellers told PGTV News via telephone on Monday morning as he prepared to go to the Southern Regional Hospital in Dangriga for medical attention.
Sellers says that it is his understanding that the police picked up the person who was driving the logging truck that ran him over; but it is not certain if any charges have been brought against that man.
We'll continue following the story.
_____________________________________________________________________________________________
This report is sponsored by:
_____________________________________________________________________________________________
Birthday Wishes